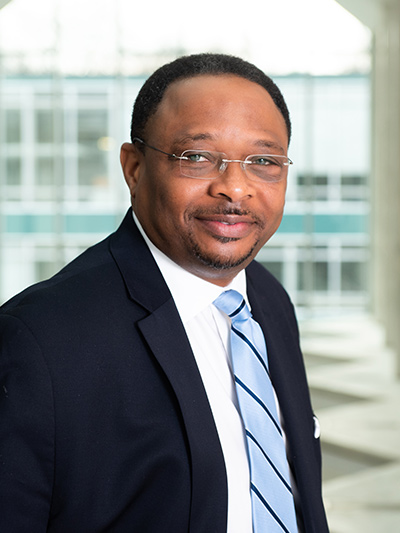 Truman Hudson, Jr., Ed.D.
Degrees and Certifications
Doctor of Education - Metropolitan Education - The University of Michigan
Master of Arts in Interdisciplinary Studies - Economic Dev. and Education - Wayne State University
Post Baccalaureate Certificate - Service Agency Administration - Wayne State University
Bachelor of Arts in Economics - Development - Wayne State University
Responsibilities
Develop and deploy outreach and marketing initiatives targeted towards increasing students, alum, faculty and key stakeholders' engagement in the Division of Teacher Education's (TED) programs, services and activities.
Academic Interests
With his pedagogical practice being rooted in place-based education, academic service learning, learning communities, and critical race theories, Hudson's academic interest include:
Diversity and Inclusion
Urban Education
Ecojustice Education
Community Based Education
Multicultural Education
Curriculum Development
Community Based Research
Inequality/Disparity
Health Equity in Communities and Schools
Biography
Dr. Truman Hudson, Jr. is a social economist, educator, and community builder who designs, implements, and evaluates curricula and programs for organizations serving diverse populations.
Hudson's research and praxis are grounded in the intersectional-ecological framework, which focuses on dismantling systemic barriers to success.
Hudson's work has afforded him the opportunity to be a co-conspirator for justice for people and communities who are traditionally marginalized, underserved, and underrepresented, i.e., BIPOC, LGBTQ+, women, and youth.
Hudson's efforts have produced over $968 million in resources for various projects.
Currently, Dr. Hudson is investigating youth perspectives on COVID-19, social justice movements, and efforts to transform and increase equity in education. Hudson is also collaborating with colleagues to develop pathways for diversifying the field of education.
 
Hudson, Jr., T., Mitchell, J., Thompson, J., Gwede, C., Griffith, D., Manning, M., Larkin, K. Brown-Miller, V., Blessman, J., Scott ,J. Powell, P., and Xu, J. (Under Review). Evidence-based strategies for engaging Black men in medical research – A scoping review. Journal of General Internal Medicine.
Taylor, J.A., Hudson, T., Williams, G., and Kotcher, C. (2020). Learning about history and culture in a mobile museum. Journal of Social Studies and History Education.
Hudson, Jr., T. (Forthcoming). Assets Devalued: The Flip Side of Gentrification. San Diego CA: Cognella Academic Publishing.
Hudson, Jr., T. (2019). The Flip Side of Gentrification: An Anthology – Custom Preliminary Edition. San Diego CA: Cognella Academic Publishing.
Hemphill, D. M. (2018). Words of Encouragement. In T. Hudson, Jr.  (Ed.), Wrongfully convicted: Walking in truth and freedom. (pp. 11-12). Chicago IL: November Media Publishing.
Bellinger, O. (2017). Foreword 2 In T. Hudson, Jr. (Ed.), 100 effective strategies for single mothers raising black boys. (pp. vi-vii). Detroit, MI: Odis Bellinger Publishing.
Shorters, T. & Hudson, Jr., T. (2016). Black men love family and community. In McHale, S.M., King, V., and Van Hook, J. (Eds.). National Symposium on Family Issues: Boys and Men in African American Families – Volume 7 (pp. 243-247). Gewerbestrasse, Switzerland: Springer International Publishing.
Burke, C. & Hudson, Jr., T. (2015). Whose knowledge counts in an Ed.D. Program? Building diverse relationships to illuminate opportunities and challenges. In V. Stead (Ed.). The education doctorate (Ed.D.): Issues of access, diversity, social justice, and community leadership. New York NY: Peter Lang Publishing.
Hudson, Jr., T. (May 2014). Power of relationships: Mentorship in the classroom. Connect, 6-12. Retrieved from http://origin.library.constantcontact.com/download/get/file/1108653809372-27/IMA-Connect-5-2014.pdf
Area of Expertise
Health and Educational Equity 
Schools and Community Engagement/Partnerships
Resource and Program Development
Organizational and Leadership Development
Curriculum and Instruction
Urban/Metropolitan Education
Research Interests
Hudson is interested in exploring students' voices and perspectives in school reform efforts; diversity, equity, access and inclusion in k-20; health equity; and the human capital argument specific to underrepresented populations.
Community Engagement Activities
As a longtime activist in the Detroit, Michigan area, Hudson has remained involved in community relations since his undergraduate years at Wayne State University. While attending Wayne State University Hudson coordinated volunteer and fundraising activities for Delta Sigma Pi, Professional Business Fraternity (Gamma Theta Chapter), Omega Psi Phi, Fraternity, Inc. (Nu Sigma Chapter), Detroit Area Pre-College Engineering Program, Michigan First Lego League, United Negro College Fund, and the National Association for the Advancement of Colored People - Wayne State Chapter.
Hudson is currently engaged in the following community activities:
Journal of Education - Peer Reviewer
Volunteers of America, Michigan - Board Member, Development & Communications Committee Chair
American Educational Studies Association - Member
Douglass Academy for Young Men PTA – Member 
Detroit International Academy for Young Women Pathway Advisory Council - Member
AARP Financial Security Team - Member
Awards
Selected Awards
Advocate, Ally, and Accomplice Awardee - Dr. Rae Lee Siporin Rainbow Graduation, Awards, Homecoming Registration, Wayne State University (2021)
Frederick Douglass Award - The New Metropolitan Detroit Club of The National Association of Negro Business and Professional Women's Clubs, Inc. (2019)
The Seed Award – Building Better Men (2019)
The Keeper of the Dream – Individuals Making Progressive Achievement and Continuous Transformation (2018)
The Made Man – 100 Black Men of America (2017)
25 Year Service Award – International Leadership Conference Omega Psi Phi Fraternity, Inc. (2017)
2016 Men of Courage Award - Ford Motor Company Fund (2016)
Grants
Selected Grants
Cody Rouge Community Action Alliance. (2018). Developed youth leadership program for Cody Rouge Youth Council (Awarded $58,100).
YOUExplore Project. (2018).Through the support of the Community Foundation for Southeast Michigan, working high school students and the leadership of Cody Rouge Community Action Alliance to co-design and implement a youth led social-entrepreneurial project (Awarded $25,000).
Blank Canvas Project. (2018). PI with a team of graduate, doctoral and high school students and community partners (LGBT Detroit, Izzie and Ford GLOBE) that co-designed a STEAM based leadership curriculum that supports the development of Black LGBTQ youth (Awarded $7,500 ).
I Am Black Genius. (2018). Designed culturally responsive asset based social engagement curriculum and delivered instruction to 30 sixth and seventh grade black male students - John R King Academics and Performing Arts Academy Detroit Public Schools Community District (Awarded $15,9444).
Saturday Scholars Sessions – Youth Exploration Day. (2018). Developed and coordinated career exploration program at Oakland University William Beaumont School of Medicine for students who attended Detroit Cody Medicine & Community Health Academy. (Awarded $5,000).
My Brother's Keeper Alliance Placement Site. (2016). Developed and secured research and capacity building grant (Awarded $108,600) - My Brother's Keeper Alliance AmeriCorps VISTA Pilot Program – Washington DC
Presentations
Selected Presentations
Hudson, Jr., T. (2021). Racial Justice and Racial Healing. New Detroit's Leadership Series on R.A.C.E., New Detroit – Detroit MI
Hudson, Jr., T. (2021). Conversation on Race and Social Change in America: A Journey Towards DEI Lecture Series. Fulbright Gateway Orientation Program, Wayne State University – Detroit MI
Hudson, Jr., T. (2021). Facilitating Culturally Sustaining Pedagogies: Building on All Voices During a Pandemic. United Way for Southeastern Michigan – Detroit MI
Hudson, Jr., T. (2021). Facilitating Culturally Sustaining Pedagogies: Building on All Voices During a Pandemic. Educational Justice Conference 2021, Bethune-Cookman University – Daytona Beach FL
Hudson, Jr., T., Chess, S., Schmidt, M. D., Lipscomb, C., Bettcher, J., Clark, B., Tishma, R., Bagdon, L., and Righter, K. (2021). LGBTQIA+ Student Equity: Meeting Junior High and High School Students' Needs. Pride Week 2021, Wayne State University – Detroit MI
Hosea, Forrest, Hudson, Jr., T., and Larkin, K. (2020). Bringing Sexy Back: Why Gender identity and Sexuality Are Essential in Routine Primary Care. School of Medicine, Wayne State University – Detroit MI
Hudson, Jr., T. (2020). Building on All Voices During a Pandemic. P.U.L.S.E. Learning In A Digital World Conference. Harris Literacy Center and Reading Works, Wayne State University – Detroit MI

Hudson, Jr., T. (2020). The Elite 18. Commencement Address. Frederick Douglass Academy for Young Men, Detroit Public Schools Community District – Detroit MI
Taylor, J. A., el-Hakim, K., Hudson, Jr., T. and Williams, G. (2019). History and Culture on Wheels: Learning in a Mobile Museum. National Council for the Social Studies Annual Conference – Austin TX
Hudson, Jr., T., Taylor, E., Hartman, H. and Howell, J. D. (2019). 400 Years of Inequity and the Impact on Today's Public Health. School of Public Health, The University of Michigan– Ann Arbor MI
Hudson, Jr., T. (2019). Investing In the Future. No Barriers to Success Program at Wayne State University – Detroit MI
Hudson, Jr., T. (2019). We Are Here: Students Voices in Education Reform. 2019 Next Gen Teachers Summer Program Wayne State University – Detroit MI
Hudson, Jr., T. (2019). Intersectionalities of Race, Sexualities and Education: An Asset Based Framework. 2019 Annual Gathering of Leaders. Coalition of Schools Educating Boys of Color – Detroit MI
Hudson, Jr., T. (2019). Asset-Based Student Success Framework: Building on Students' Gifts to Inform Instruction. Inaugural Black Male Retention & Success Conference. Henry Ford College – Dearborn MI
Hudson, Jr., T., Williams, G., Cole, K. and Murff, V. (2019). Disrupting Aging: Money and Love. AARP – Southfield MI
Hudson, Jr., T. (2018). Brotherhood Meet-Up. AARP – Detroit MI
Hudson, Jr., T., Bell, L. M., Brown, D., Mastroianni, A., McGhee, F., Morgan, K. and Williams, C. (2018). Blank Canvas STEAM and Leadership Development Curriculum for LGBTQ+ Youth. University of Michigan - Dearborn MI.
Hudson, Jr., T. (2018). Collective Impact Asset Mapping: Finding Solutions. The University of Michigan Detroit Center – Ann Arbor MI
Hudson, Jr., T. (2018). Fundraising Excellence in Nonprofits: Building Generational Wealth in Battle Creek. State Voices & Michigan Voices – Battle Creek MI
Hudson, Jr., T. (2018). Building Generational Wealth for Flyweights. Rumble Young Man Rumble. Campaign for Black Male Achievement – Detroit MI
Hudson, Jr., T., Daniels, M. Watkins, D., & Lee, Jr., A. W. (2018). Men and Their Money. AARP Michigan National Town Hall – Detroit MI
Hudson, Jr., T. (2018). Building on Our Collective Assets. Golightly Career and Technical Center National Technical Honors Society Induction Program. Detroit Public Schools Community District. Detroit MI
Hudson, Jr., T. (2018). Asset Based Community Building Branding. Public Allies Metro Detroit – Detroit MI
Hudson, Jr., T. (2018). Branding Community & You. Public Allies Metro Detroit – Detroit MI
Hudson, Jr., T. (2018). Reading Is Life. Great Start Collaborative National Reading Awareness. Nolan Elementary Detroit Public Schools Community District – Detroit MI
Hudson, Jr., T. (2018). The Social Entrepreneurial Nonprofit Leader. Dilla Youth Day 2018. Charles H. Wright Museum of African American History– Detroit MI
Hudson, Jr., T. (2018). The African American Experience. EXPS 410 Multiculturalism in School and Society. Education Program. The University of Michigan Dearborn – Dearborn MI
Hudson, Jr., T. (2018). Special Programs and Services in Schools. EDB 586/786 Curriculum Deliberation and Development. Doctor of Education Program. The University of Michigan Dearborn – Dearborn MI
Hudson, Jr., T. (2018). Social Entrepreneurship in Community Building PA 5500 Nonprofit Organization Management. Oakland University Master of Public Administration Program – Rochester MI
Hudson, Jr., T. (2017). Inclusion, Diversity, Equity and In Fund Development. Association of Fundraising Professionals - Greater Detroit Chapter – Southfield MI
Hudson, Jr., T. (2017). Understanding An Asset Framework. Office of Diversity, Equity and Inclusion - The University of Michigan – Detroit MI
Hudson, Jr., T. (2017). The Five W's: Equity Matters¿ Office of Diversity, Equity and Inclusion - The University of Michigan – Detroit MI
Hudson, Jr., T. (2017). Education 8.0: What's Next¿ Wayne State University - TechTown Detroit – Detroit MI