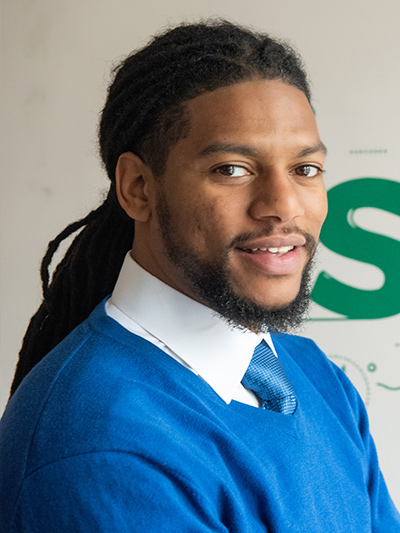 James Holly, Jr.
Assistant Professor of Urban Science, Technology, Engineering, & Mathematics Education
(313) 577-9588
Office Hours: Varies by semester, appointments welcome
271 Education Bldg.
Degrees and Certifications
Purdue University, Doctorate of Philosophy (Ph.D.) in Engineering Education, 2018 - Dissertation: "Of the Coming of James": A Critical Autoethnography on Teaching Engineering to Black Boys as a Black Man
Michigan State University, Master's of Science (M.S.) in Mechanical Engineering, 2014 - Master's Thesis: Engine Modeling - Optimizing Engine Valve Timing and Lift for Fuel Economy
Tuskegee University, Bachelor of Science (B.S.) in Mechanical Engineering, 2011 - Research Project: Low Velocity Impact Response on Multi-Wall Carbon Nanotubes Infused in E-Glass/Epoxy Composites
Responsibilities
Conducting substantial research in science, mathematics, technology, and engineering education; securing external research funding; teaching undergraduate and graduate courses; mentoring and advising students; and providing university, state, and professional service.
Academic Interests
1. Using Engineering to enrich Science & Mathematics instruction
2. Addressing the digital-use divide as a means to technological equity
3. Cultivating teacher agency and advocacy
Biography
Dr. James Holly, Jr. (please say the 'Jr.') is a native Detroiter who pursued a doctoral degree as an intentional career pathway transition into full-time youth development, hoping to study how to use research and scholarship for the benefit of educators in urban settings. His dissertation focused on studying and implementing sociopolitical teaching when instructing black boys in Engineering, which requires an awareness of the issues they face in life and how that interacts with the learning context and subject content. He highlighted factors that contribute to un/successful teaching of black boys, and the benefits of same-race, same-gender teachers when working with black boys. His doctoral study was unique as it trained the boys to think like an Engineer, not necessarily to become an Engineer; thereby developing transcendent critical thinking skills relevant for any career pathway or aspect of life (e.g., finances, relationships, athletics).
As a proud member of the Warrior community, Dr. Holly participates in the formation of critically conscious STEM educators that effectively utilize and support the assets of urban non-white students. His research explores the complexities of teaching the STEM disciplines in an urban context in pursuit of equity and justice, and the process of preparing educators to teach the STEM disciplines in an integrated manner. His personal mission is to invest in the prosperity of black and urban youth, by helping young people develop their physical, mental, and spiritual capacities so that they may become mature individuals and active members of society. With a keen awareness of the debilitating effect of systemic racism on the lives of black Americans, Dr. Holly advances his mission through designing educational experiences that stimulate young people's intellectual growth, cultural competence, and sociopolitical consciousness.
Courses taught
Science Curriculum: Pre-primary - 8 (ELE 6500)
Area of Expertise
Culturally relevant pedagogy, in/formal learning, content and context integration, in urban STEM education
Research Interests
1. Effective strategies for integrating (i) engineering literacy and (ii) inclusive pedagogies into the preparation of pre-service STEM teachers
2. Chronicling the experience of informing classroom culture and practice as a black faculty member in urban teacher education
3. Developing sustainable retention and recruitment efforts that racially diversify the STEM teacher workforce
Community Engagement Activities
Advisory Board Member:
Junior Science and Humanities Symposium
National Science Foundation (NSF) Innovative Technology Experiences for Students and Teachers (ITEST) grant #1760311
National Science Foundation (NSF) Division of Engineering Education and Centers (EEC) grant #1849430
Grant Panel Reviewer:

National Science Foundation
Featured publications
A critical autoethnography of a Black man teaching engineering to Black boys
Holly, Jr., J. (2020). A critical autoethnography of a Black man teaching engineering to Black boys. Journal of African American Males in Education, 11(2), 25-42.
It is widely publicized in scholarly and practitioner spaces that Black male students are underrepresented in engineering and related fields. Black boys generally have limited experiences with engineering courses and programs throughout their educational careers in primary and secondary school. More information about how Black boys are taught in engineering spaces is required to address this imbalance. In this critical autoethnography, I share my experiences with teaching Black boys engineering in an after-school program. This study incorporates the use of culturally relevant pedagogy as the theoretical framework and reports findings that capture the essence of my experiences, thoughts, and perspectives on teaching Black boys in engineering spaces. This study calls for more research on Black men teaching and Black boys' learning in engineering settings.
Holly, Jr., J. (2020). Disentangling engineering education research's anti‐Blackness. Journal of Engineering Education, 109(4), 1-7.
As a Black male educator and researcher, I am keenly aware that the epistemological, ontological, and axiologicalperspective I (and others like me) bring to the engineering education research community is often rejected if not justneglected or devalued. This realism precedes America's establishment and has since fueled its existence(Madhubuti, 1994; Shujaa, 1993). Likewise, Wharton (1992) aptly details the ways in which engineering education(i.e., collegiate engineering study)"has been a preserve of the white power structure since its inception"(p. xi). Yet, in the spirit of Maya Angelou"I rise,"telling my story (Holly, 2018) as an educative counter-narrative (Hughes &Pennington, 2017; Solórzano & Yosso, 2002a) to elucidate and disentangle the anti-Blackness endemic in engineeringeducation research. With this editorial, I will provide a brief elaboration on anti-Blackness and the ways it manifests inengineering education research; then I present research practices that can help engineering educators conduct research that is pro-Black (the antithesis of anti-Black).
Publications
Disentangling engineering education research's anti‐Blackness
A critical autoethnography of a Black man teaching engineering to Black boys