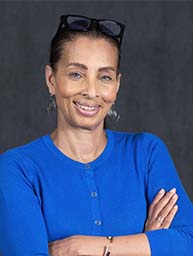 Denise Taliaferro Baszile
Dean, College of Education
313-577-8287
Office Hours: By appointment
441 Education Building
Degrees and Certifications
Ph.D. Curriculum and Instruction, Louisisana State University, Curriculum Theory Project
M.A. Secondary English Education, Louisisana State University
B.A. Communication Studies, Mass Communication, University of California, Los Angeles
Academic Interests
Multi-culturally relevant and responsive curriculum development
Equitable leadership 
DEI praxis for recruitment and retention
Community-based pedagogies
Biography
Denise Taliaferro Baszile, Ph.D. is the newly appointed dean in the College of Education at Wayne State University. She sees herself as a charismatic, people-centered leader deeply invested in collaboration, community and collective wellbeing. As a native Detroiter, Dean Taliaferro Baszile relishes this opportunity to return home and to work with the dynamic staff, faculty and students in the college.
Dean Taliaferro Baszile is a highly recognized and respected scholar in the area of curriculum and cultural studies, where she is best known for using creative methodologies to tease out the intimate connections and disconnections between curriculum and marginalized identities. Dean Taliaferro Baszile's scholarly work underscores the power and importance of understanding and developing curriculum that is dynamic, radically inclusive and relational. She has co-edited two groundbreaking anthologies — Race, Gender, and Curriculum Theorizing and Curriculum Theorizing in Color and Curves — as well as numerous journal articles and notable book chapters that speak to the ongoing struggles over power, knowledge and difference in educational contexts. Her work has earned a number of scholarly awards, including the Mary Ann Raywid Award from the Society of Professors of Education, the ARC award from the Curriculum and Pedagogy Group and the Derrick Bell Legacy Award from the Critical Race Studies in Education Association.
In addition to her scholarly work, Dean Taliaferro Baszile has also been actively and joyously engaged in building community capacity around equitable schooling, college readiness and the larger, more fundamental work of educational wellbeing, especially in underserved communities. She has developed and co-developed a number of initiatives that engage diverse college students in working alongside local communities and schools to create culturally relevant and responsive summer camps, mentorship networks, artistic performances and other strategies that emphasize investing in community in meaningful and generative ways. Most recently, Dean Taliaferro Baszile worked with a team of dedicated colleagues from higher education, K-12 and community-based organizations to imagine and implement a unique program to address the urban teacher shortage and the lack of diversity in the profession.
Prior to assuming the deanship at Wayne State, Dean Taliaferro Baszile spent 21 years at Miami University of Ohio, where she achieved full professorship and served in several roles in the College of Education, Health, and Society, including director of graduate studies in educational leadership, director of diversity initiatives, associate dean for diversity and student success, and interim dean. She also received awards and commendations for her efforts in teaching, mentoring, community engagement and diversity, equity and inclusion. In 2022, she was awarded the Benjamin Harrison Medallion, the highest honor in the university, which recognizes outstanding contributions in the area of scholarship, teaching and service.
Dean Taliaferro Baszile is an active member of several professional organizations that are invested in educational equity and wellbeing. She served as president of the American Educational Studies Association, vice president of the Division of Curriculum Studies for the American Educational Research Association and a member of the Journal of Curriculum Theorizing Leadership Team. She is currently co-chair of Education Deans for Equity and Justice, vice president of the Critical Race Studies in Education Association and a member of the advisory board of the Midwest Equity Center.
Dean Taliaferro Baszile received most of her K-12 education in Detroit public and parochial schools and finished her high school career at Oak Park High School. She earned a bachelor's degree in communication studies at UCLA and her master's in secondary English education and doctorate in curriculum and instruction at Louisiana State University.
Area of Expertise
Multi-culturally relevant and responsive curriculum development
Equitable leadership
DEI praxis for recruitment and retention
Community-based pedagogies
Research Interests
Intersections of curriculum theory, Black feminist theory, and Critical race theories
Struggles overpower, knowledge and difference in educational contexts
Community based efforts to reclaim educational wellbeing 
Awards
Benjamin Harrison Medallion for extraordinary university contributions in the areas of teaching, research, and service, Miami University, 2022
Arc Award for notable contributions to the field of Curriculum and Pedagogy, Curriculum and Pedagogy Group, 2021
Derrick Bell Legacy Award for notable contributions to the field of Critical Race Studies in Education, Critical Race Studies in Education Association, 2021
Mary Anne Raywid Award for distinguished scholarship in the field of Education, The Society of Professors of Education, 2020
YWCA Women of Achievement Award 2014
Jennie Elder Suel Distinguished Women of Color Award 2011
University Award for Excellence in Graduate Student Teaching/Advising 2010
Nominated Phi Beta Kappa Professor of the Year (Colgate University) 2000, 2001
Grants
Ohio Department of Education Teacher Shortage Grant
Awarded: $200,000
Co-PI, TEACh Cincinnati
Duke Energy Education Grant
Awarded: $10,000
Co-PI, MU TEACh Grow Your Own Program
Interdisciplinary Innovation Grant
Awarded: $150,000 over three years, May 2015-May 2018 for DreamKeepers
(Culturally relevant college readiness initiative) Co-PI
Publications
Baszile, D.T. (In press). Toward a Black Feminist aesthetic in curriculum theorizing: Pieces of a collage. In P. Hendry, M. Quinn, J. Bach, and R. Mitchell (Eds.). Curriculum histories in person, in place, and in practice. New York: Routledge.
Baszile, D.T. (2022). Democracy in the break: A riff in support of the movement for Black lives. In B. Wozoleck (Ed.). Schooling in the era of #BlackLivesMatter. New York: SUNY Press.
Baszile, D.T. (2021). Curriculum theorizing in a systematically anti-black world. In M. Peters and R. Heraud (Eds.). Encyclopedia of Educational Innovation.
Baszile, D.T. (2019). ReWriting/re-curricularizing as a matter of life and death: The coloniality of academic writing and the challenge of Black mattering therein. Curriculum Inquiry, v 49 (1), pp. 7-24.