Athletic training student and alumnus keep athletes safe during pandemic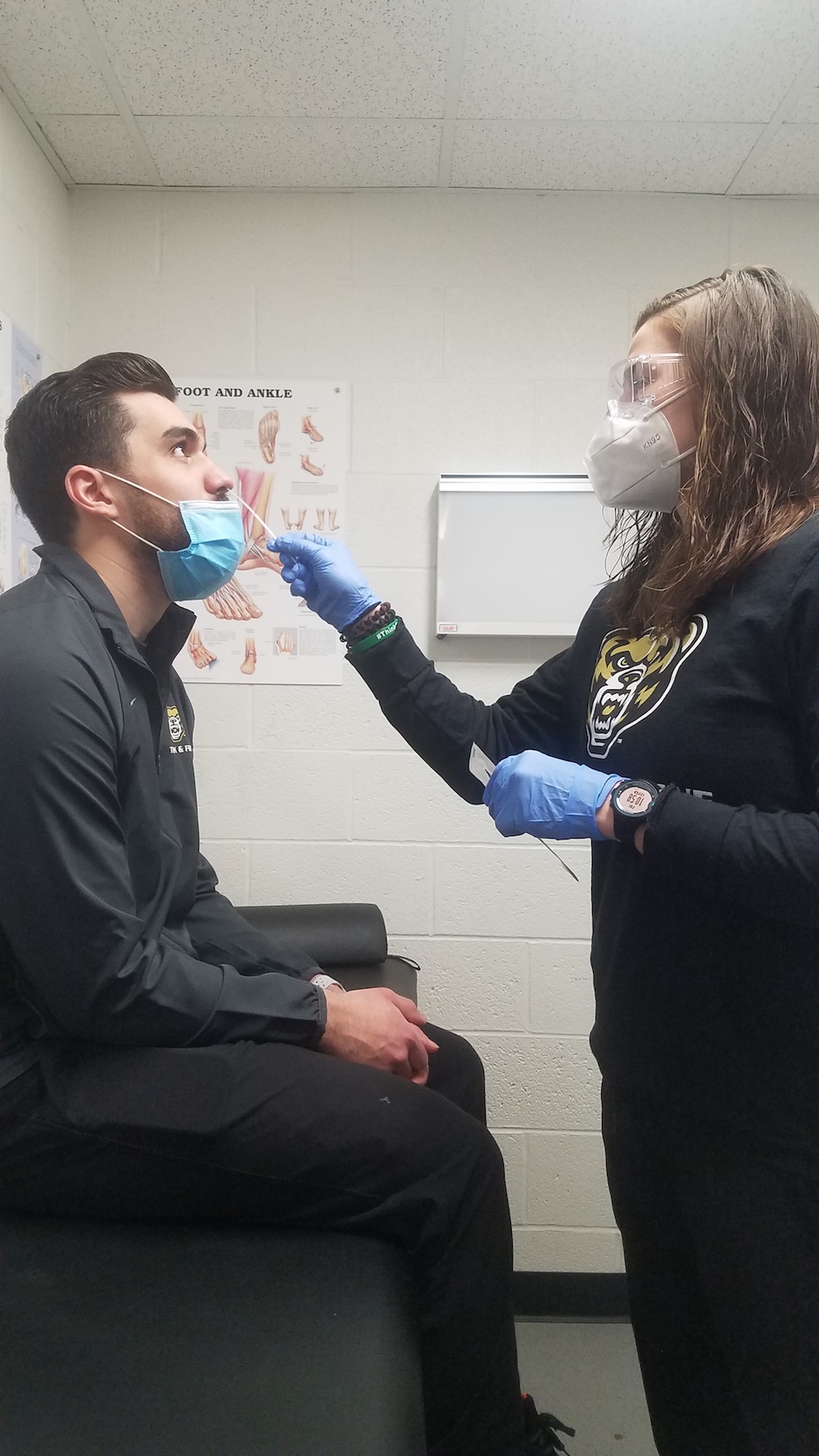 When most people think of athletic trainers, they picture individuals who run onto the court or field when a player is injured.
Athletic trainers do assist players when they are injured, but that is not all. During the pandemic, their roles and responsibilities as health care providers have expanded even further.
Emma Weber (BS '19), a Wayne State University College of Education master's student in the athletic training program, knows firsthand the challenges associated with keeping athletes safe and healthy during the pandemic.
"Athletic trainers wear many more hats now, and they have a larger administrative role," said Weber. "We make sure teams are following COVID-19 protocols; conduct contact tracing; and navigate state, league and conference COVID-19 precautions and requirements."
Weber developed an interest in athletic training as an undergraduate at Wayne State. As an athlete — she was captain of the swim team — she was curious about the human body and how it worked.
"I always asked how exercises made me better," said Weber, who earned a bachelor's in kinesiology and wants to work with high school students and provide health care and resources to populations that may not have access to them. "I wanted to know the science behind the exercise."
Now in her last semester, Weber is completing a clinical rotation with Henry Ford Athletic Medicine at Oakland University, where she works with Division 1 track and field and cross country athletes under the supervision of Hassan Safieddine (BS '17, MS '20), an alumnus of Wayne State's program.
Safieddine heard about Wayne State from his cousins, who attended the university. He transferred to Wayne State because of its diverse student body and it was close to home. A kinesiology major, he wanted to be a physical therapist but changed his mind after interning with a preceptor who was an athletic trainer.
"I saw these different athletes coming in, and it was so fast paced," he said. "I asked him 'what do you and how can I do it?' Then, Wayne State launched an athletic training program, and I applied and got admitted. It was the best decision I have made in my life."
In addition to managing athletes' treatments, Safieddine attends practices daily and travels with the team. One of his first tasks was to set up COVID testing.
"I thought it was going to be slow, but it turned out to be the exact opposite," Safieddine said. "I was rehabilitating athletes, making sure everyone was getting tested, doing contact tracing, and communicating with coaches. It was a lot to do with limited time in the day."
Although his duties keep him busy, Safieddine said it is important to motivate and mentor students like Weber who aspire to become athletic trainers.
"I got excited when I heard Emma was coming," he said. "Helping her apply what she is learning in class is amazing. I provide positive reinforcement, challenge her a little and keep her moving forward. I know where she wants to go, so I am doing what I can to help her get there."
Ultimately, Safieddine said athletic training is about making smart choices and building relationships.
"You have to use your education and everything you know to make the best decisions for the people you serve and treat them as humans," he said. "Players come to me with injuries, stress about school and other concerns. I try to take care of them as people, not their injuries."
Weber said working with Safieddine has been inspirational.
"I see him working with athletes and teams, and it is encouraging because he looks so professional and capable," she said. "If he can do it, I can do it. He is familiar with the curriculum, so he encourages me to take initiative and practice techniques he felt he needed more experience with as a recent graduate and new employee."
Weber said working with Safieddine also gave her insight into what her first job might be like.
"Mentoring is important," she said. "Being on the job is different than completing simulations, and in some cases, the athletic trainer might be the only one in the office. It is nice to have someone to answer my questions and give me advice."
Weber says her time at Wayne State has prepared her to succeed. The combination of classroom, clinical and extracurricular experiences helped her develop leadership skills, confidence and resilience.
"The faculty and staff and my classmates will continue to be part of my support system as I advance in my career," she said. "I have learned everything I need to be a great health care provider and athletic trainer. I earned a master's while navigating the pandemic. If I can do that, I can go into the real world and do anything."
by Tracy A. Walker