From substitute to superintendent: Wayne RESA's Daveda Colbert discovered her destiny during a weeklong staycation
Becoming an educator was never part of Daveda Colbert's MAT '95, Ed.S. '98 original career plan.
A former tennis standout at Detroit's Redford High School, she earned a full scholarship to Southern University at New Orleans, a public historically Black institution in Louisiana. After graduation, Colbert returned to Detroit, where she began working as an accountant for the federal government.
When a friend and sorority sister suggested Colbert spend her one week of vacation time serving as a substitute teacher in the Detroit Public Schools (DPS) — now Detroit Public Schools Community District — she answered the call.
"At the time, DPS had more than 150,000 students, and the district needed help," she said.
Colbert was sent to Dixon Elementary. She soon discovered it would be a defining moment and a life-altering experience.
"That one week I spent as a substitute teacher helped me recognize the calling on my life," she said. "The principal told me, 'The kids want you to stay, and the staff loves you. If you ever decide to pursue a career in education, you will always have a home here.'"
Colbert had been certain she wanted to attend law school. Now, she wondered if that was the right career move. She could not ignore how rewarding working with the children at Dixon had been.
"I started charting a totally different career path," she said. "I didn't think I wanted to be a teacher, but I realized I could make a difference in education. It was the eighth week of school, and many students did not have permanent teachers. I wanted to help change outcomes for them, and I determined that I could best do that as DPS superintendent."
A few weeks later, Colbert submitted her resignation and returned to Dixon as a substitute teacher. Now that she had a clear goal, she enrolled in the Master of Arts in Teaching program at Wayne State University. Soon after earning her master's, she began working on her education specialist certificate in administration and supervision.
"Wayne State was going to help me achieve my goal of becoming the superintendent," she said. "It offered the programs I needed to elevate my education and advance in the profession. The courses provided the foundation for the path I wanted to pursue."
Colbert transitioned from teaching to administration, serving as athletic director, assistant principal and principal at various schools in southeast Michigan. Focused on achieving her dream job, she began a doctoral program. Colbert developed relationships with other Black women in educational leadership while working on her dissertation, which explored the perspectives of 10 African American female superintendents in Michigan.
"I spent a considerable amount of time interviewing them," she said. "Their stories inspired me, and I learned so much from their experiences."
Colbert accepted a position as assistant superintendent with the Detroit Public Schools. Although her original goal was to lead the district, she said she did not apply for the job when it became available because she had already been selected to serve as Oak Park Schools superintendent.
"Back then, I believed Dr. Nikolai Vitti was best suited for the role," she said. "I still believe he was and remains the best candidate for the job."
Colbert used the knowledge and skills she developed in her classes at Wayne State as she moved up the ranks. She recalled completing a project that required students to reimagine the design of a school or district they wanted to lead.
"When I became superintendent of Oak Park Schools, I began living that assignment," she said. "I went into a district that had an $8 million deficit and declining enrollment, and I told people, 'We are going to make this reality.' We changed attitudes, we inspired people to hope and believe, and we did the work to turn things around."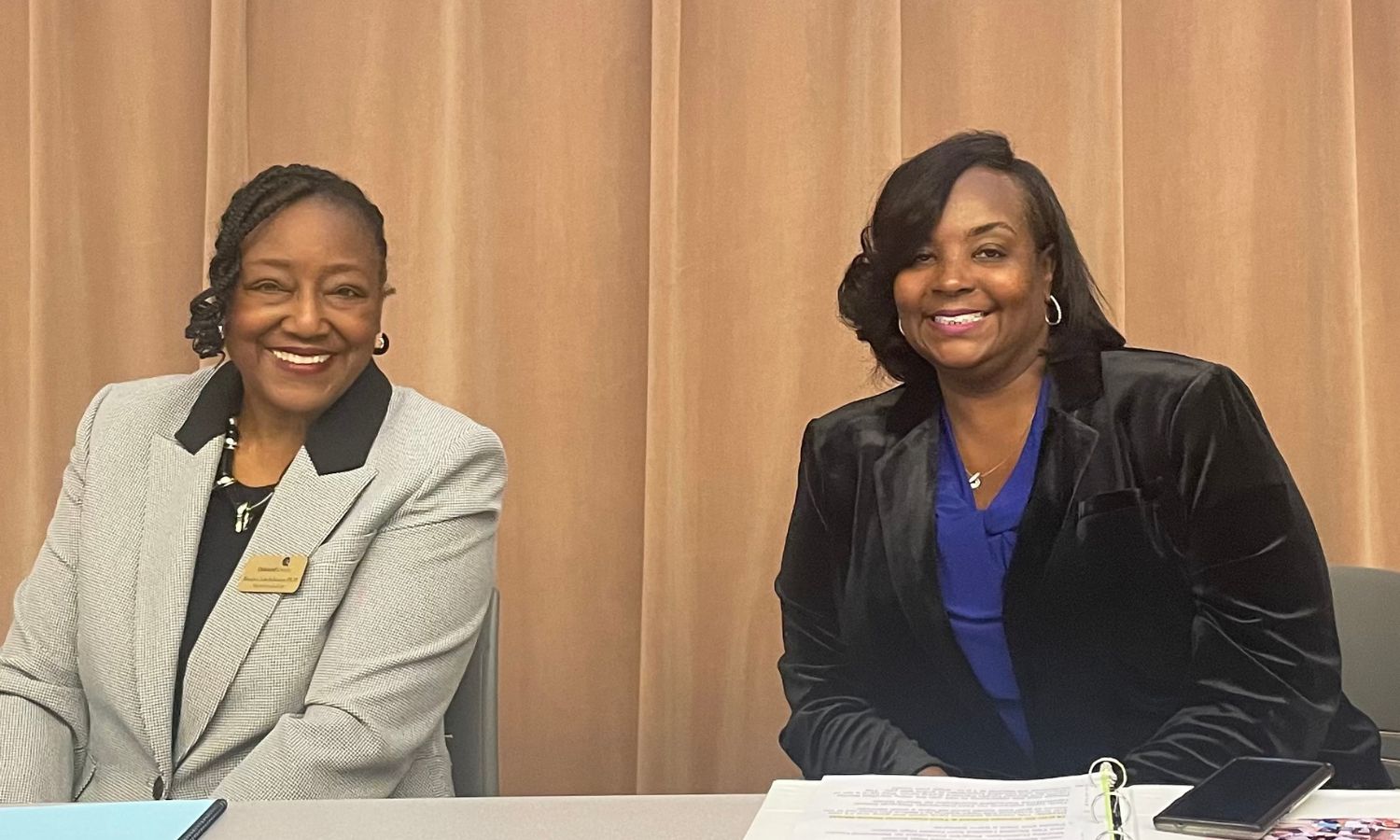 Colbert said fellow Wayne State alumna and Oakland Schools Superintendent Wanda Cook-Robinson Ed.S. '84, Ph.D. '90 — who was then superintendent of the Southfield Public Schools — took her under her wing.
"She was leading the district next to mine, and we became good friends," she said. "We attended conferences together, she checked on me and she made sure I was on point. She became someone I could discuss issues with and seek advice or opinions from. She connected me to opportunities because she saw my accomplishments and she wanted my network to be as wide as hers. You always want the people you mentor to go further."
Colbert thought she would retire from Oak Park Schools. Then, Cook-Robinson was named superintendent of the Oakland Schools intermediate school district (ISD), becoming the first person of color to lead one of Michigan's 56 ISDs since they were created in 1962.
"My mentor became the first African American woman to serve in that role," she said. "That was exciting. Although being superintendent of an ISD was not on my list of things to accomplish, seeing someone who looked like me in that role made it more attainable for me. Mentorship is essential because this space is different. I appreciate her for paving the way for me and the others who, hopefully, will follow. For that same reason, it is my duty to do the same — to mentor, guide, coach, support, encourage and pave the way — for others."
Colbert said Cook-Robinson and other mentors continue to connect her to a variety of opportunities. She has been invited to join national organizations, serve on national committees and boards, and speak at meetings and conferences.
"Those experiences helped me strengthen my resume, widen my network and increase my credibility as I continue to navigate my way through this space," she said. "I believe it was a big part of the reason why my predecessor, Randy Liepa, tapped me to serve as associate superintendent of educational services at Wayne RESA."
When Liepa M.Ed. '90, Ed.S. '97 retired, Wayne RESA, the largest of Michigan's 56 intermediate school districts, conducted a national search to find his replacement. Colbert was named superintendent in the spring of 2021, becoming the first African American woman to serve in that position and the second African American woman to lead an ISD in the state.
"I am thankful for my journey," she said. "I appreciated seeing African American women like Wayne State University professors Nola Jackson and Geralyn Stephens; Emma Epps, the first African American female and longest-serving superintendent in Ecorse; Stephanie Burrage, former assistant superintendent at Wayne RESA; and former DPS Superintendent Connie Calloway leading the way. Their presence, advice and guidance encouraged me to continue along my path."
Colbert credits her mother for helping her understand the importance of education. She said her grandparents had only a grade school education and neither of her parents attended college, but her mother pushed her to go further. Colbert has not only earned multiple degrees, but she has also completed numerous superintendent preparation programs and participated in several leadership initiatives to increase her knowledge, further develop her skills, expand her network and ensure she is prepared for potential opportunities.
"My mother told me education was the key to success because it could unlock doors and increase my access to opportunities," she said. "I always understood that education would help me obtain everything I wanted. We must continue to help students understand why education is a critical part of their future success. It can help end generational poverty and improve economic mobility."
Colbert hopes to attract more individuals to the education profession. Wayne RESA, in collaboration with 38 other Michigan ISDs, recently launched Talent Together, a new initiative that seeks to address the teacher shortage. The project seeks to make the teacher certification process easier while focusing on issues such as quality, proficiency and affordability.
"Ensuring people understand being an educator is an admirable career, making salaries more competitive, creating alternative pathways to teacher certification, partnering with colleges and universities, and providing scholarships or fellowships to teacher education students are some strategies for recruiting and retaining quality candidates who want to make a difference," she said. "Transforming lives is so important, and that is part of what teachers do," she said. "At some point, we have all had a teacher — no matter what profession we chose to pursue. Someone helped us obtain the knowledge and skills we needed to succeed."
According to the U.S. Department of Education's National Center for Education Statistics, about 80% of teachers in the U.S. identify as white; 9% are Hispanic, 7% are Black, 2% are Asian and less than 1% are Native Hawaiian/Pacific Islander and Native American/Alaska Native. Nearly 76% of teachers are women.
Colbert indicated that increasing the diversity of teachers and administrators is critical.
"Wayne County is the most diverse county in Michigan," she said. "We have the highest numbers of economically disadvantaged students, students with disabilities and multilanguage learners. While 18% of Michigan's students are Black, only 22 — or 4% — of the 578 school district superintendents in the state are Black. Seventy-seven percent of superintendents in the U.S. are white men. As the population of the U.S. becomes more diverse — in terms of race and ethnicity, gender, class, ability and other identities, we must increase the diversity of our teachers and administrators so that we can meet the unique needs of all students. The only way we are going to fill these gaps and change those data points is by continuing to recruit, prepare and mentor people with those diverse backgrounds, identities and experiences."
According to Colbert, most people pursue careers in education because of a calling, a commitment to service or a desire to help young people. She said aspiring educators should stay encouraged, remember their why and invest in their personal and professional development.
"If you see areas in education you want to improve, focus on them and figure out what it will take for you to get into a position to make a difference," she said. "Whether it's advocating for students, facilitating policy changes or becoming an administrator, lean into that because your expertise, leadership and voice are needed. Together, we will continue to improve education and ensure that future students will have better outcomes."
Media contact:
Tracy Boyce
tracy.boyce@wayne.edu
313-577-0260