Career change helps alumna discover her purpose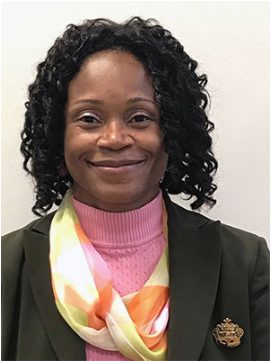 Mary Jenkins-Williams said she would never be a teacher.
After earning a bachelor's in business administration, Jenkins-Williams became one of the first black merchandise managers for a national department store chain. On her first day on the job, an employee quit because she refused to work for an African American. Six years later, Jenkins-Williams decided she needed a change.
"While trying to figure out what I wanted to do next, I decided to try substitute teaching," she said. "I fell in love. I needed to go back to school to become certified. I was married and had little ones at home, so I chose Wayne State because it was affordable, close and diverse."
Jenkins-Williams completed the College of Education's master of arts in teaching program in three years. She was impressed by the faculty, many of whom had a strong influence on her teaching style.
"Jacqueline Tillis was a phenomenal woman. Her class was one of the most challenging courses I had. She taught us how to differentiate lessons according to readiness levels of all students," she said. "Geralyn Stephens was also inspiring. I used what she taught me within the classroom and in my life. I see her as a mentor, role model and friend."
Jenkins-Williams returned to the college to earn an education specialist certificate so she could become a K-12 administrator. The unexpected death of two close family members almost derailed her plans.
"I lost my mom and grandmother within one year of each other," she said. "It was devastating. They were two of the most important women in my life, and their deaths were a shock to my system. I was tempted to stop and finish later, but the support I received from my cohort and professors helped me get through one of the most challenging times of my life."
Although she was qualified to be an administrator, Jenkins-Williams continued teaching because she loved being in the classroom. She taught social studies for 20 years at Detroit schools, including Taft Middle School and Southwestern, Cass Technical, Cody, and University Prep Science and Math high schools. Another role model and mentor, Gabriella Gui - a founding member of University Prep and a former president of the Wayne State University Alumni Association - convinced her to help train new educators.
"Having that administrative certification from Wayne State gave me the opportunity to advance my career," she said. "I became an instructional coach and supported more than 30 teachers."
Next, Jenkins-Williams served as director of professional development and teacher training for the Education Achievement Authority, where she collected and analyzed data to provide professional development and researched best practices. Because she missed working directly with students, she started her own company, Jenkins-Williams Institute for Change, LLC. She was trained by the state of Michigan to provide multitiered systems of support, including positive behavior interventions and support, in five schools.
"I supported teachers in building relationships with students so they could address behavioral issues and assist students with their social and emotional needs. Many students are dealing with traumatic experiences, and we must support them before we can teach them," she said. "It is important to know content and how to apply theory, but it is equally important to build relationships with students. When you have those relationships, you can teach students anything."
Missing direct student interaction, Jenkins-Williams - who earned her doctorate in education a few years ago - recently accepted a position as assistant principal at Franklin Middle School, part of the Wayne-Westland Community School District.
A Detroit native and Pershing High School alumna, Jenkins-Williams believes it is important to give back. She became a member of the Wayne State University Alumni Association board last year. She also serves on the board of the university's Organization of Black Alumni.
"I joined both boards because I am a product of Wayne State," she said. "The university has made a difference in not only my life but also in the lives of my family. I am a first-generation college student. By setting that example and being a role model, I let my family see what is possible with hard work and determination. Four of my five sisters, my three children, and most of my 19 nieces and nephews have gone to college. Now, it is important for me to share with others what Wayne State has done for me. I hope to continue being an inspiration to others."
Jenkins-Williams encouraged her family and friends to attend Wayne State. Her son, Malcolm, is a senior majoring in kinesiology in the College of Education and a member of the football team. One of her sisters is an alumna, and one of her closest friends is a doctoral student.
"Everything I have experienced at Wayne - including being able to support my son on the football team - has been great. I love the transformation the university is going through right now. I support what the president, provost, and Office of Diversity and Inclusion are doing," she said. "Wayne State is a premier university where students receive a quality education. I wear my Wayne State pin with pride, and I have a bumper sticker on my car. I tell people how proud I am of everything the university has done and how it is changing lives. You don't have to go far away to have a great educational experience - you can do it right here in Detroit."
These days, the woman who said she'd never be a teacher is encouraging others - particularly young people from underrepresented groups - to become educators. If she had to do it all again, Jenkins-Williams would not change a thing.
"This is it for me," she said. "Educating, inspiring and motivating students to finish high school and helping teachers have the same kind of fulfillment I have had has been my life's mission."
by Tracy A. Walker