Wayne State University College of Education to host community conversation about the future of education in Detroit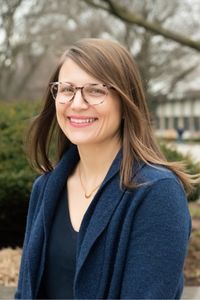 The Wayne State University College of Education will host "Lessons Learned and the Future of Education: Finding Solutions from New Orleans to Detroit," a community conversation about public education in Detroit, on Monday, Oct. 17. The program, which is free and open to the public, will take place from 5 to 6:30 p.m. in Hilberry B/C in the Student Center on Wayne State's main campus.
"The program is focused on generating solutions to challenges in today's public school districts," said Sarah Winchell Lenhoff, associate professor of educational leadership and policy studies. "We invite parents, educators, community leaders and others concerned about the state of education in Detroit to join us for this important discussion."
After Hurricane Katrina, the traditional public education system in New Orleans was replaced with a new model, making the city's school system the first in the country to consist entirely of public charter schools. Two years ago, America's school systems were affected by the COVID-19 pandemic.
Douglas Harris, professor and chair of the Department of Economics at Tulane University and author of Charter School City: What the End of Traditional Public Schools in New Orleans Means for American Education, will share findings from his book and draw parallels to the current state of education. Harris will be joined by Danielle Jackson, chief executive officer of U Prep Schools, and Nikolai Vitti, superintendent of Detroit Public Schools Community District, to discuss what these lessons mean for Detroit and the future of education in the city.
Panelists and participants will explore questions such as: What lessons from New Orleans can be applied to the challenges Detroit schools face? How can school districts recover from learning loss and build an education model that works for all kids? What factors make the two cities' school systems different — in terms of structure and results — and might impact recovery efforts?
"We're excited to bring together one of the leading experts on the effects of school reform in New Orleans with Detroit education leaders," said Lenhoff. "We hope the conversation will shed light on how the lessons of Katrina can inform Detroit schools' response to the pandemic and ensure that Detroit students and families have what they need to thrive."
To register, visit waynestate.az1.qualtrics.com/jfe/form/SV_4ZowAF2n2AWkx94.
For more information, contact Sarah Lenhoff at sarah.lenhoff@wayne.edu.
Faculty spotlight