Master of Arts in program evaluation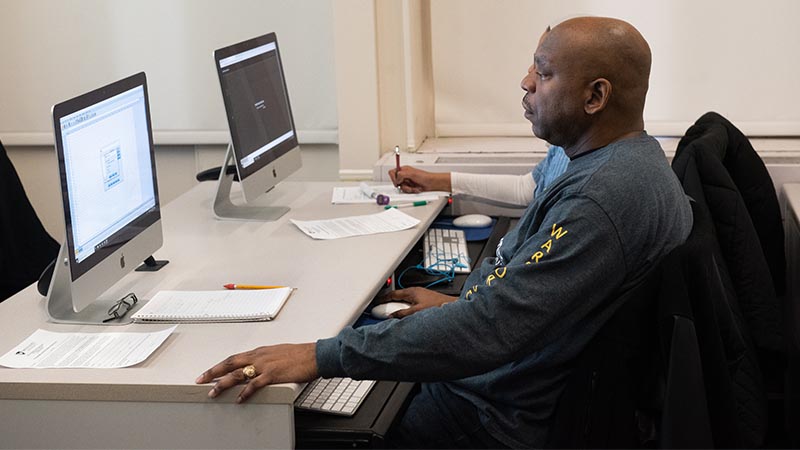 Do you want to deepen your evaluation scope and strengthen your analytical skills? Wayne State University provides an education experience, with an emphasis on diversity, equity and inclusion. The Program Evaluation program prepares evaluation practitioners to positively impact local and global communities by providing high quality, effective, and holistic program evaluators.
Important dates
Fall, Winter and Spring/Summer admissions
Program Features
100% online
Five-semester curriculum, 33 credits (minimum)
Students have the benefit to learn anytime, anywhere
Individualized plan of work
Emphasis on highly sought-after competencies, including:

Diversity
Equity
Inclusion

Interdisciplinary courses with faculty experts in program evaluation and learning, design and technology
Coursework focuses on quantitative and/or qualitative methodology, with courses in Learning Design and Technology
Emphasis on organizational communications for both internal and external evaluations
Strong relationships with local partners, including expanding alumni networks
Robust research methods provide a strong foundation for continued graduate study
Benefits for military and veterans, visit the Wayne State University Office of Military and Veterans Academic Excellence
Skills developed
Students will learn and apply knowledge in real-world contexts and strengthen their skills in several areas, including community development, needs assessment, program design and analysis, data collection and analysis, reporting, team communication, and strategic planning.
Career potential
Graduates with a master in arts will be prepared to begin careers in evaluation and assessment, with the potential to pursue positions as:
Chief evaluation officer
Director of evaluation
Director of student assessment
Evaluation specialist
Learning and assessment manager
Management analyst/consultant
Program officer
Research associate
Prerequisites
See Wayne State University Graduate School website for information about admission. An undergraduate GPA of 3.0 is required for admission. All undergraduate majors are acceptable.
Curriculum
Semester I
| Courses | Cr. Hrs. |
| --- | --- |
| Total | 7 |
| EER 7410 Introduction to Program Evaluation | 1 |
| EER 7420 Culturally Responsive Program Evaluation | 3 |
| EER 7610 Evaluation and Measurement | 3 |
Semester II
| Courses | Cr. Hrs. |
| --- | --- |
| Total | 9 |
| EER 7430 Organizational Theory for Evaluation | 3 |
| EER 7870 Qualitative Research I: Introduction | 3 |
| EER 7640 Fundamentals of Quantitative Research | 3 |
Semester III
| Courses | Cr. Hrs. |
| --- | --- |
| Total | 7 |
| EER 8700 Advanced Qualitative Program Evaluation | 3 |
| LDT 7145 Needs Assessment and Analysis | 4 |
Semester IV
| Courses | Cr. Hrs. |
| --- | --- |
| Total | 7 |
| EER 8720 Advanced Quantitative Program Evaluation | 3 |
| LDT 7150 Evaluation of Learning and Performance | 4 |
Semester V
| Courses | Cr. Hrs. |
| --- | --- |
| Total | 3 |
| EER 8910 Practicum in Evaluation | 3 |
Contact
Jasmine Ulmer, Ph.D.
Associate professor
313-577-1427
jasmine.ulmer@wayne.edu
Administrative & Organizational Studies
Phone: 313-577-1805