From camp to commencement, alumnus' journey comes full circle
Every time I do it, I do it for my hood / And every time I do it, I do it for yo hood
And every time I do it, I do it for they hood / It's understood, I do it for the hood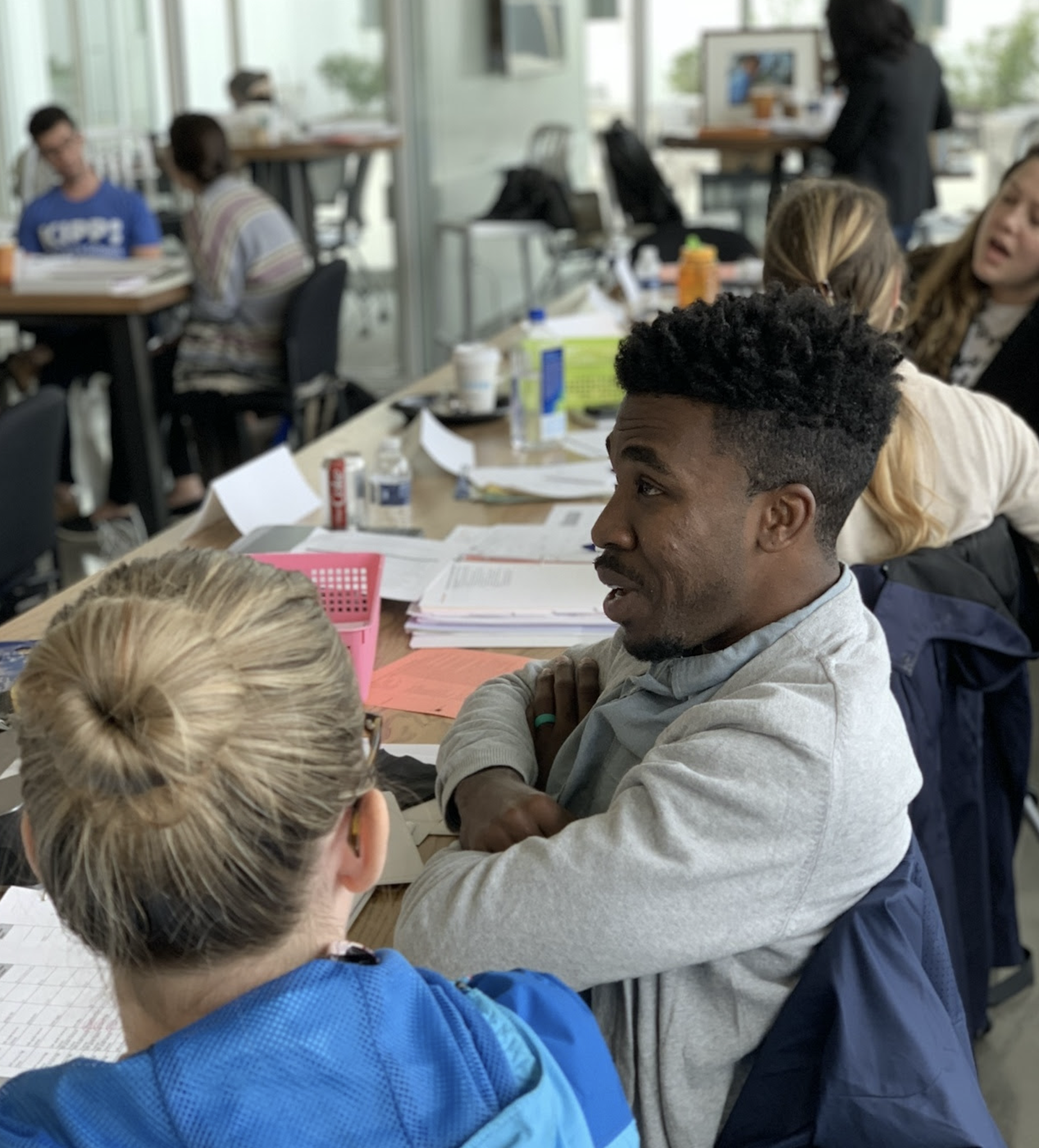 These Young Jeezy lyrics explain what drives Branden Bufford ('16). The Cass Technical High School and Wayne State alumnus was inspired to pursue a career in education by his family. His aunt was a counselor, and his uncle and grandmother - an alumna of the Wayne State College of Education and the first person in Bufford's family to earn her bachelor's and master's degrees - were both teachers. Bufford's desire to make a difference led him to pursue a bachelor's in physical education at Howard University in Washington, D.C. He returned to Detroit to participate in an alternative spring break service project at Highland Park High School and noticed a startling contrast.
"Students there had fewer resources than what I had at Cass Tech. That triggered my interest in ensuring equity in education," he said. "I focused on urban education. I went to schools that were overlooked and schools that were not popular but really needed hard-core change."
Bufford began his career working for an afterschool program at Woodward Academy in Detroit, where he learned how to differentiate instruction and make learning fun. He then taught physical education at University YES Academy, where he discovered his teaching voice.
"One of my colleagues was like a drill sergeant, and students responded to him," he said. "I tried teaching that way, and the kids laughed at me. I had to find my own voice to gain their respect."
Two years into his teaching career, Bufford decided to earn a master's in educational leadership and policy studies at Wayne State.
"Wayne State is a top-notch institution, and the program was affordable and urban-focused," he said. "Teachers in urban, suburban and rural areas experience similar challenges, and teacher education candidates need to have the capacity to serve students and recruit staff from different backgrounds."
Bufford, who was a student ambassador in the College of Education, faced several obstacles along the way but never gave up. "It took me five years to complete the master's program. I am Warrior Strong because I had the perseverance to finish. The support I received from my wife, my advisor Carla Harting and my professors was invaluable," he said.
When Bufford graduated in 2016, it was a moment he was proud to share with his grandmother. It was also a homecoming of sorts.
"I attended national sports youth camp at Wayne State between the ages of 10 and 14, and I played in the gym every day," he said. "When I graduated, commencement took place in the gym. It was cool to come full circle and become a graduate of the university there."
Bufford taught at Detroit Community High School, worked as an athletic operations coordinator at Wayne County Community College and served as a recruiter for a master's program at the University of Michigan. Wanting to return to the classroom, he moved back to Washington, D.C., and became a physical education teacher at the Columbia Heights Educational Campus. It was an eye-opening experience.
"Unless you were in a school in southwest Detroit, the majority of students in Detroit's public schools were African American," he said. "In this D.C. school, the majority of students were Latino, and nearly 45% were recent immigrants and first-generation Americans from at least 12 different countries. I saw different problems in public education and considered what public education on a national level was like, particularly in terms of the challenges immigrants face."
A year later, Bufford became the career and college coordinator at Columbia Heights. He loved the work and made an immediate impact - 98% of the students were accepted to colleges and universities, and he helped many secure scholarships. However, another move was imminent.
"We liked D.C., but it was expensive, and my wife and I had no family there," he said. "She is from Chicago, so we decided to move there. I was sad to leave, but family trumps job."
As director of recruitment and hiring for KIPP Chicago Schools, Bufford finds teachers for the more than 2,000 students enrolled in the charter school system's eight K-8 schools.
"I have to bring all my talents into this job. My previous experiences teaching, serving as an administrator and working with diverse populations, as well as my master's coursework, prepared me for this role," he said. "I learned how to communicate effectively with different stakeholders and how to lead so that everyone is on the same page in Dr. Hill's class. Professor Addonizio taught me to consider how economic issues of a city affect its schools. In my staff development and school improvement course, I learned how to make a macro plan when it comes to recruiting. What is our goal, and what do we need to do to get there? I know how to plan on a larger scale, execute and get results for students."
Bufford said recruiting teachers from underrepresented populations is a challenge, and he hopes more young people and more men will consider teaching.
"Anybody who has experienced success has had a teacher who believed in them. Teach to be that person you needed when you were in school, to be an advocate for children, to love children," he said. "Teachers are training the next generation to go out into the world and solve problems. If we want to see the world change, we must teach kids how to change it."
by Tracy A. Walker